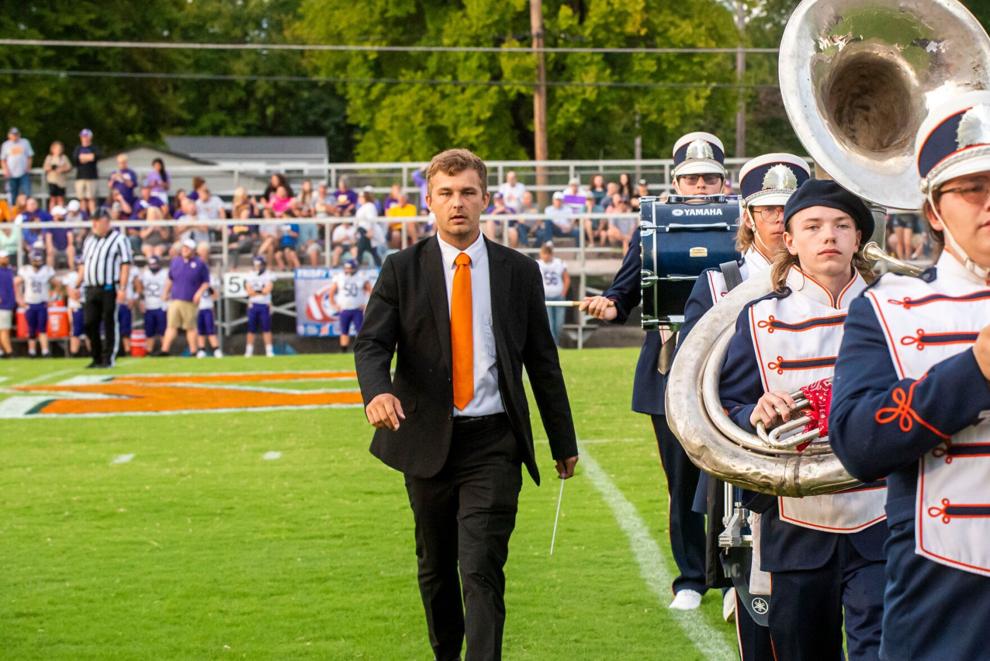 No matter the outcome of the college football season, rest assured Tennessee would be represented at the Chick-fil-A Peach Bowl semi-final Dec. 31 in Atlanta.
The Roane County High School Band has been invited to perform and participate in the pageantry of the event.
"I'm beyond exited," Band Director Andrew Layne said. "We are incredibly blessed to have such a great program. I'm so glad I get to be part of it and to lead us through something like this.
"We're just incredibly excited to have this opportunity. We're excited to represent our community, excited to represent our school, represent our friends and family at such a huge event."
The band will be there for four days where the musicians will drink in the sights, sounds and experiences of a lifetime.
"I think most of the kids have a good idea of what this recognition entails," Layne said. "We know where we're going and that it's a big college football. Many of the kids are college football fans, but I don't think if it's really sunk in yet and it may be a big surprise for them once we're there."
Garnering such an invitation is a testament to the excellence the Yellow Jacket band has exhibited throughout the years.
The band has tallied accomplishments and accolades like a kid collecting baseball cards.
One of the most recent, a 2019 performance at the Tennessee Band Masters' Association Hall of Fame Concert along with other superb performances and assessments, helped to cement the invite.
"The invite kind of just came out of the blue," Layne said. "I received a letter in the mail saying we were being invited to participate and to contact the person in charge and then we'd figure out how to get us down there."
"It feels good to have our commitment to excellence recognized in this way."
A previously mentioned, the band will do more than just perform at the big game. The band will be there for four days and will participate in a few other activities.
While in Atlanta, Roane County High School's band will rehearse with the mass band, learn from nationally acclaimed adjudicators and march in the parade throughout the downtown.
The kids will also have the opportunity to take advantage and see the sights of Atlanta in their down time.
Depending on how the rest of the college football season plays out and if the University of Tennessee Volunteers finish strong to where they will be playing in the Peach Bowl, it would be a serendipitous turn of events for the band.
"I'm excited about that possibility," Layne said. "I'm a huge Tennessee fan and it would be incredible to got to a national playoff game where UT is playing.
"It would also be a great opportunity for the kids. If UT's band were there for them to see, it would make it even better.
"It would be a good way for the kids to see what could happen if they pursue music into college."
At an event as big as the Peach Bowl with bands performing, it stands to reason there will be a large number of high school bands from around the nation. As of now the exact number isn't known.
"I'm not sure at how many will be there," Layne said. "I'm sure there will be a large number with everything planned, though."
In order for the Roane County High Band to realize this dream, there has been fundraising throughout the community.
"We've done well with the fundraising," Layne said. "The community has done well and been responsive. We announced it almost every home football game.
"We put it on Facebook and other places. The community has been supportive and I've gotten a lot of contact from local businesses with offers of help.
"We've been really fortunate and blessed to have the community rally behind us for us to go to this kind of thing."
Also of note, Layne is in his second year as the Band Director, so the trip and accolade is an acknowledgement of what he has accomplished in guiding the young musicians of Roane County High School.
"It certainly is the thing I've undertaken so far," he said. "I've not planned a trip like this before.
"I'm in my fourth year teaching, third as Head Band Director and second as Head Band Director here at Roane County.
"I feel like the experience I've had and my continued growth as a teacher, a musician and as a person, I feel ready and confident we are doing everything to be prepared and to represent Roane County as best we can."
Layne also wants to remind everyone they can still help and contribute throughout Dec. 11 to help the trip. If donors miss that point, they can still chip in funds anytime through the year to support the band.
"We're just grateful for everything," he said. "We're grateful for the help and the support our community has shown.
"We're just really, really excited to be able to do this thing.
"If anyone would like to help and support us, they can reach out to me."
Any interested benefactor can contact Layne at alayne@roaneschools.com or they can be mailed, C/O RCHSBBA P.O. Box, 1071, Kingston, TN 37763.